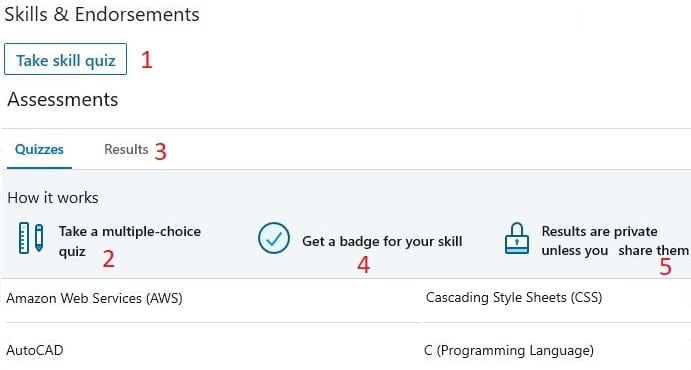 You have already learned that LinkedIn profiles with a robust amount of relevant hard skill keywords rank higher in a job recruiter's search results. However, now LinkedIn is asking you to verify your expertise in a variety of skills. A typical assessment consists of 15 to 20 multiple choice questions, and each question rigorously tests your proficiencies. The questions are timed and must be completed in one session. A passing score is one in the 70th percentile or higher. Then, you choose if you want to show a badge on your profile. Research indicates there is a 30% rise in the likelihood of getting employed with a completed skill assessment.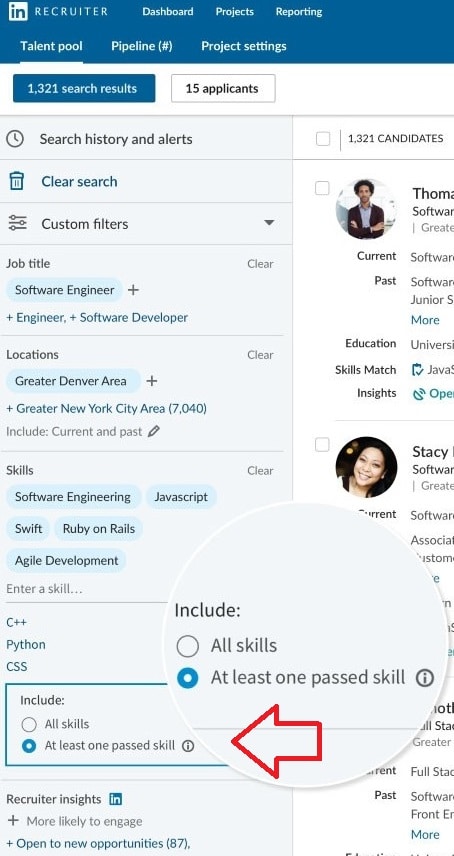 Research shows that 83% of hiring managers think skills and credentialing are important to quantify during the talent search and hiring process. However, 77% of hiring managers agree that it is hard to know what skills candidates possess without a skill assessment. Job recruiters are now using the results of LinkedIn's Skill Assessment to more efficiently determine which applicants are the best fit based on the confirmed skills.
It's not a stretch to see a world where job announcements will limit applications to candidates who have completed multiple skill assessments as an accurate way to screen applicants for the required skills they need. The time and technology used to perform evaluations belong to the profile owner and LinkedIn, not the job recruiter. The recruiter, therefore, can concentrate on analyzing data and making conclusions. The speed and scale of these tests may incentivize human resource managers to assess more candidates.
LinkedIn quizzes/assessments are currently focused on technology, but more categories are in development.
Technology skills: Angular, AutoCAD, AWS, Bash, C, C#, C++, CSS, GIT, Hadoop, HTML, Java, JavaScript, jQuery, JSON, Maven, MongoDB, NodeJs, Objective-C, PHP, Python, R, React.js, Ruby, Ruby on Rails, Scala, Swift, WordPress, XML.
Business productivity tests: Adobe Acrobat, MS Excel, MS Outlook, MS PowerPoint, MS Project, MS SharePoint, MS Visio, MS Word, QuickBooks.
Autodesk skill test: Revit building information modeling software and Maya computer graphics application.
Regardless of whether or not you pass the quizzes, LinkedIn Learning will suggest free online courses to help improve your abilities. These digital classes enable you to continue to develop the core functions you're interested in, thereby feeling more confident and motivated as well as putting yourself in a better position for when you are ready to look for your next career change.
Approximately 76% of professionals wish there were a way for employers to verify their skills so they could stand out against other candidates. Hiring managers agree, 80% think applicants do not have the skills they said they have during the interview. I took the Linkedin skill assessment for Excel and passed on the first try, but the questions were not easy. Sorry, I am not revealing the answers to the Linkedin skill quiz/assessment, you will have to earn the badge just like I did.
Learn more by reading the original blog post on LinkedIn Skill Assessments.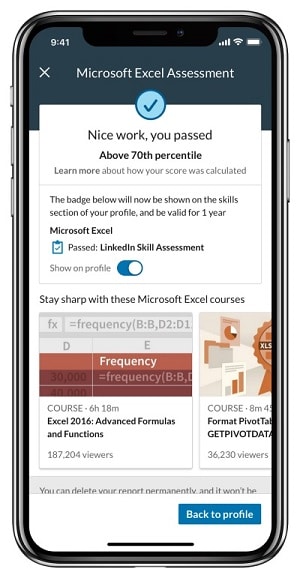 Click here to learn more about the methodology in building career skill quizzes and tests.
Learn about our LinkedIn Profile Writing Service and Resume Writing Service.