LinkedIn Profile and Resume Writing Gift Cards for New Graduates, Outplacement.
Give resume, LinkedIn profile writing, or any service Klaxos offers as a gift.
Our services are perfect for a college student nearing graduation, outplacement resume writing for employees during a layoff, colleagues conducting a job search, military service member transitioning to a civilian business, or business sales leads.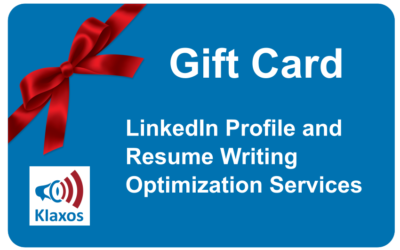 Use the form below to choose a service to give as a gift, e.g., resume & LinkedIn writing for $999-$1,199 range, or DIY templates and tools for $19.
Provide the gift recipient's name, email, delivery date, and message below.
Complete payment with your name and email on the following webpage.
We email the gift to the recipient within one business day from your date of purchase or any future date you choose.
Contact us with questions or for a customized dollar amount.